Mariners: Should Dyson or Segura Lead Off?
The Mariners picked up two leadoff hitters this offseason in an attempt to add speed and on-base ability to the top of their potent lineup. We know which of them is likely to lead off, but is that the right call?
When the Mariners brought Jean Segura to Seattle via a blockbuster trade with the Arizona Diamondbacks, most fans, including myself, assumed Segura would lead off. He's coming off a 33-steal season in which he led the National League in hits, boasting a .368 On-Base Percentage.
Then Mariners General Manager Jerry Dipoto made another deal to acquire former Kansas City Royals outfielder Jarrod Dyson. By the time the first Mariners Spring Training batting order was announced, most had penciled in Dyson as the leadoff hitter and Segura second.
The argument for Mariners manager Scott Servais putting Dyson ahead of Segura in the order is strong. While no one expects Segura to replicate his 20 home runs he hit for Arizona last year in Seattle, it's not unreasonable to expect a slugging percentage somewhere in the .450 range (he slugged .499 last season). That's still an awfully good slugging percentage for a shortstop hitting near the top of the order, but if he could slug 41 doubles and seven triples in addition to his 20 round-trippers last season, he could definitely find some grass in those cavernous alleys at Safeco Field.
Segura would be a good segue into the heart of the Mariners order. A table-setter for the Murderer's Row of Nelson Cruz, Robinson Cano, and Kyle Seager, all of whom hit at least 30 home runs last year, Segura could be circling the bases quite a bit. Dyson hitting leadoff creates a few more run-producing situations for Segura, whose extra-base hits could drive the speedy ex-Royal home from scoring position easily and create more first-to-third situations as well.
Let's play Devil's Advocate for a moment and push Segura to the top of the order. Dyson is a defensive upgrade and was a useful basestealer in 107 games last year for Kansas City, but the question for him in Seattle has always been can he hit enough to stay in the lineup? Dyson has been used in the past as a fourth outfielder at worst and two-every-three-day starter at best in his career. He has never played more than 120 games in a season (2014).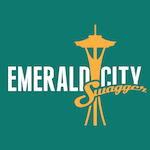 Want your voice heard? Join the Emerald City Swagger team!
Write for us!
We've made much of Segura's sudden breakout 2016 season, but Dyson also had a career year last season. His numbers aren't nearly as gaudy as Segura's, but his .340 OBP in 2016 was a career-high, as was his batting average (.278) and slugging percentage (.388). He also shattered his previous career-high in doubles with 14 in 2016.
I always value on-base percentage for leadoff hitters higher than most other stats, including steals.
Assuming Dyson doesn't regress to his sub-.700 On-Base Plus Slugging levels in 2017, flipping him and Segura puts a hitter with better on-base skills atop the lineup and another speedster after him and before Cano, Cruz, and Seager. I always value on-base percentage for leadoff hitters higher than most other stats, including steals. Steals don't do much good if the hitter can't reach base to swipe second. Segura hitting leadoff seems to be a safe, possibly over-cautious approach.
As it stands, the Mariners are set up to lead the league in runs scored this year with Dyson-Segura at the top of their lineup. There's an argument to be made for batting your best hitter second instead of third. If Segura can replicate his career-year from last season, he just might be the best hitter in the lineup. Him hitting with Dyson on base could cause plenty of carnage for the opposing team.
It will come down to how Dyson holds up in the leadoff role. He's never been a power hitter, so opposing pitchers will likely try their down-the-middle fastballs with him and pitch around just about everyone else in the order. If he can leg out enough infield hits, bloop enough singles, and steal enough bases, he could score 100 runs for the Mariners this year. He just has to get on base first.
Should Dyson be the Mariners de facto leadoff hitter or should Segura or another Mariner start 2017 atop the Seattle order?